City of Statesboro COVID-19 Relief Fund Application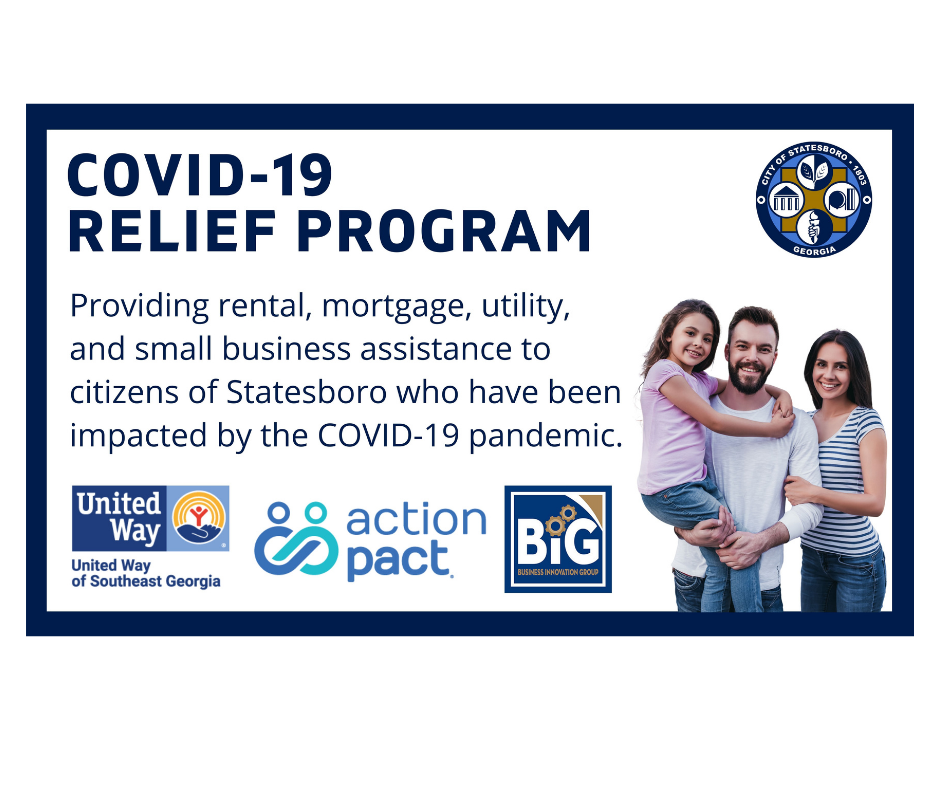 The City of Stateboro has established a COVID-19 Relief Fund which is being administered by United Way of Southeast Georgia. The purpose of this fund is to to provide rental or mortgage assistance to families and individuals who have been disproportionately impacted by COVID-19 pandemic and its economic consequences. If you are in need of assistance with your utility bill, please contact Action Pact at 912-489-1604.
City of Statesboro COVID-19 Relief Fund will provide financial assistance to:
Residents of Statesboro inside the city limits
Residents who are not able to pay all or part of their monthly rent/mortgage due to financial hardship caused by COVID-19. This must be due to reducation in household income.
Completed Application (submitted online)
Completed Budget Form (Please write name on form) Click here to dowlonad the Budget Form
Identification – Driver's License, State Issued ID or Passport
Copy of Social Security Card
Rental / Lease / Mortgage Statement (if seeking rental assistance)
Statement from landlord that states you are past due (if seeking rental/mortgage assistance, please include your landlord's name and phone number)
Income Documentation (please provide all that apply to household)
Applicants must be residents of the City of Statesboro
Applicants must provide proof of loss of income due to COVID-19 pandemic (from March 1, 2020 to the current time that the applicant applies)
Applicants must provide verification of current income
Applicants must provide verification of past due rent / mortgage (cope f the most recent bill, copy of the mrtgage statement, copy of the lease or statement from the property management company or landlord)
Applicants must provide a completed intake application (online or hard copy)
All documentation needs to be current for us to decide eligibility. This information will be used to verify your need. Please submit all documentation within 48 hours of submitting the online application. Place all documentation in an envelope and put in the drop box at the Outreach Center (515 Denmark Street). The drop box has a United Way sign on it. Once documents are received a case manager will review your application and contact you with questions.
You will be notified by either email or phone call regarding your application for assistance.
Please DO NOT contact the United Way office to check status of your application, as we are processing many applications. If you have questions please email UnitedWaySEGA@gmail.com.